Posted: December 29, 2020 |
Author:
Vicky
|
Filed under:
exhibition
,
Group Exhibition
,
Lockwood Gallery
,
Uncategorized
|
Tags:
Art in the Hudson Valley
,
Contemporary Art
,
Lockwood Gallery
,
Victoria Palermo
|
Leave a comment »
I am delighted to be part of this vibrant group show in Kingston, New York—on view to January 24, 2021! https://www.thelockwoodgallery.com/current-exhibition. Following social distancing guidelines, telephone 845-663-2138 to schedule a viewing.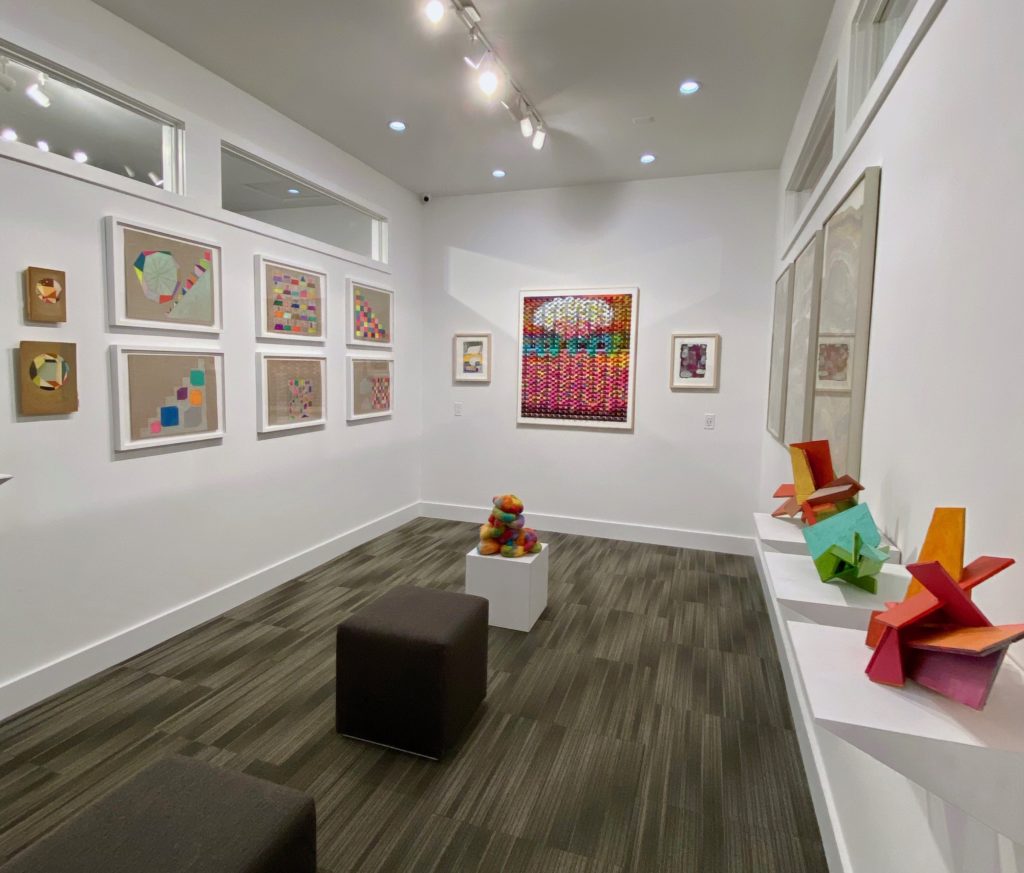 ---
Posted: January 17, 2020 |
Author:
Vicky
|
Filed under:
Albany Center Gallery
|
Tags:
Victoria Palermo
|
Leave a comment »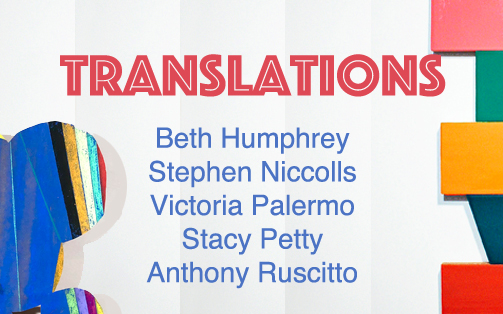 From February 4 – March 6, 2020, Albany Center Gallery (ACG) will present Translations, featuring the works of regional artists Beth Humphrey, Stephen Niccolls, Victoria Palermo, Stacy Petty, and Anthony Ruscitto. An artists' reception will be held at ACG from 5 p.m. to 8 p.m. on Friday, February 7, 2020, and the public is invited to attend.
Translations attempts to explore how artists, approaching their mediums and subjects with similar methods and processes, create such vastly varying and sometimes abstracted works from what they observe and experience in the natural world. As humans and not machines, repetitive actions and regular processes result in pieces that may be similar but never quite the same. Perceptions of reality and nature are translated into fragmented shapes, linear geometry and repeated forms, warping our sense of mundane routine.
Beth Humphrey is a nationally exhibited artist and educator who currently lives and works in Saugerties, NY. In her organically formed wall pieces, she draws inspiration from the micro, macro, and biological, as well as the mountains of her home and principles of physics. Like energy, which can neither be created nor destroyed and is constantly being transformed, Humphrey's process sees her works transformed through various incidents, additions, and subtractions.
The large, abstracted paintings of Stephen Niccolls reflect his experience of the physical world as one of varying patched-together forms. Qualities such as color, pattern, and texture are translations of real-world building materials drawn from the artist's rural upbringing in Texas: masonry, stone, rusted or scuffed metal, painted stucco, and weathered wood. In a largely improvisational and non-linear fashion, Niccolls attempts to bring reality to the canvas without straightforwardly duplicating its forms, giving new meaning and context to fictive spaces.
For her large and vivid works, Victoria Palermo begins by pouring pigmented resin over wood planks in an effort to recreate effects of light and color reflecting on bodies of water. She views this "reimagining" as "more [of] a recognition… of nature rather than an actual recording" and sees her planks as metaphorical, magnified brushstrokes of historical landscape paintings. Palermo has exhibited her two-dimensional and three-dimensional works across the country in both solo and group exhibitions.
Visual artist Stacy Petty has exhibited his works throughout the country and Europe. His current body of work focuses heavily on themes of death, decay, and rebirth. Petty is fuelled by the notion of saving art from "the dustbin of lost history." Inspired by studies of culture and history, he recovers and revitalizes broken and fragmented works through skillful display and subtle repairs. Petty currently works out of Brooklyn and Hudson, NY.
Self-taught painter and printmaker Anthony Ruscitto has exhibited widely throughout the region and nationally. Inspired by modern and postmodern figures and movements such as Claes Oldenberg, Bauhaus, and abstract expressionism, as well as street art, graffiti, and contemporary artists, Ruscitto blends big, bold areas of color with small, sometimes hidden, expressive marks. His process, mostly intuitive and spontaneous, has allowed him to create bold works that mix pattern, line and geometry across multiple mediums.
Translations is on display at Albany Center Gallery from Tuesday, February 4, to Friday, March 6. It will feature the work of five regional artists: Beth Humphrey, Stephen Niccolls, Victoria Palermo, Stacy Petty, and Anthony Ruscitto. The exhibition will begin with an artists' reception at ACG on Friday, February 7, from 5 p.m. to 8 p.m. The reception and exhibit are free and open to the public.
Translations, is sponsored by ACG Premier Sponsors Howard Hanna & David Phaff, as well as Kevin and Cindi Dubner, ParkAlbany, the New York State Council on the Arts, Honest Weight Food Co-op, and the Albany Wine & Dine for the Arts Festival.
---
Posted: November 16, 2019 |
Author:
Vicky
|
Filed under:
Hyde Collection
|
Tags:
2019 Artists of the Mohawk Hudson Region
,
350.org
,
AMHR 2019
,
Art and Climate Change
,
Bill McKibben
,
David Brickman
,
Get Visual
,
The Hyde Collection
,
Victoria Palermo
|
Leave a comment »
I was honored to jury the 2019 exhibition, Artists of the Mohawk Hudson Region, held this year at the Hyde Collection in Glens Falls, NY. The AMHR, as it is known, is one of the longest running regional shows in the country. Over 400 people attended the opening on October 12, at which Bill Mckibben, author and creator of 350.org, spoke about art and climate change.
Many thanks to David Brickman for his art blog, Get Visual, and his wonderful review posted November 16, 2019.
Click here to read the Albany Times Union review for this show.
A shout-out and thanks to the Glens Falls Post Star for their coverage of the opening event!
Photo credits/Jim McLaughlin
---